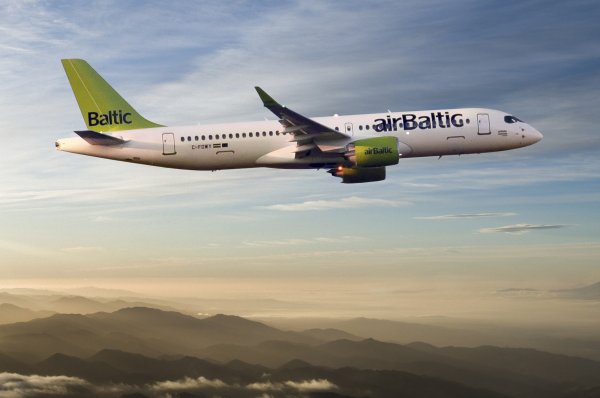 AirBaltic, also known as AS Air Baltic Company, is a leading airline in Latvia, one of the Baltic countries. airBaltic is one of Latvia's most important brands, having joined the European Union as a full member in 2004. Furthermore, the company serves as the country's national flag carrier. AirBaltic has the status of a low-cost airline, establishing an airline connection between Latvia, a very small country, and Europe. The corporate headquarters of airBaltic are in Riga, Latvia's capital. Furthermore, the company keeps a portion of its aircraft fleet at Riga International Airport in Riga. Despite being based in Latvia, airBaltic, as the name suggests, also serves Estonia and Lithuania in addition to Latvia. In this regard, in addition to Riga, airBaltic maintains a portion of its fleet in Tallinn, Estonia, and Vilnius, Lithuania. As can be seen, airBaltic is a partner airline of all Baltic countries.
AirBaltic, which was officially established on August 28, 1995, began offering services approximately one month later. AirBaltic, whose official start date is October 1, 1995, began operations on behalf of the Baltic countries during this time period. The partnership grew even stronger after all three countries were admitted to the European Union in 2004. airBaltic's fleet consists of 29 aircraft. While the majority of these planes are based in Riga, a few are also based in Vilnius and Tallinn. AirBaltic, with 29 aircraft in its fleet and scheduled flights to 68 destinations, operates the most flights to European Union countries. There are also scheduled flights to former Soviet Union countries such as Belarus, Russia, and Ukraine.
Despite being a low-cost airline, the company is experiencing serious financial difficulties. Despite increasing revenues, airBaltic has experienced significant difficulties in recent years. Despite having a $290 million revenue, the company faced the prospect of not making a profit. So much so that in recent years, the income-expenditure balance has begun to deteriorate in the direction of expenditure. Despite being a European Union organization, the company does not use Airbus, one of the most important European Union brands. Boeings, the new American goods, are the planes that are already in service. Bombardier aircraft are also used by the company. Although the company previously used Airbus, all Airbus aircraft have been replaced, and Boeing aircraft have been purchased. With over 20 years of aviation experience, airBaltic has never had a fatal accident. Finally, on September 17, 2016, despite the fact that the Bombardier Q400 NG type aircraft landed on the fuselage due to the landing gear locking, no one was killed. Bombardier has been contracted to supply the company with 15 new aircraft. This model is provided for the Bombardier CS300 series.