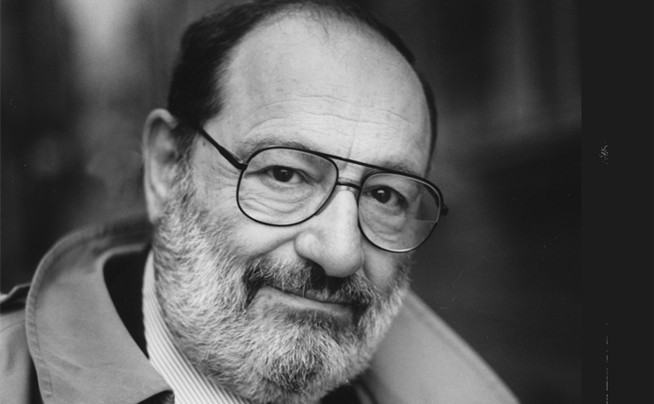 Umberto Eco was born in Italy and works as a novelist, journalist, semiotician, and literary critic. With his detective novel The Name of the Rose, which he approached in an intellectual manner, he attracted a sizable following. The author focused on improving the functionality of this branch of science in practice and asserted that semiotics can be used as a unifying factor for literary theories and fictional events. He is regarded as the person who transfers many phenomena we encounter in daily life from an intellectual to a literary medium and applies or creates their theoretical teachings. He is a skilled medieval analyst who can speak five languages fluently as if they were his native tongue.
The writer was born in Alessandria, Italy, in 1932, earning the nickname Dedalus, which was thought to be appropriate in an intellectual sense. His mother is Giovanna, and his father is Gulio, an accountant. The writings of this era were greatly influenced by Eco, who had a rural upbringing. Eko left this department in the middle and turned to her own interests. She had entered law school because she didn't want to displease her father, who had insisted she study law. He enrolled in the Medieval Philosophy and Literature Department at the University of Turin to start his studies. In the 1950s, Eco was referred to as an intellectual Catholic, but after receiving his doctorate, he started to doubt and deny his faith. The author, who held some editorial positions during this time, took every opportunity to criticize contemporary culture. He looked into the historical foundations of modernity's ideas and presented them to his readers from a different angle in his book Açk Yapt. In September 1962, he wed Renate Ramge. After accepting the offer, he relocated to Milan and began working as a visual communication professor at the university. The author started writing his theories in 1968 after reflecting on the significance of the signs while he was here. The strongest foundation for his theories was laid by the author, who began his career in education in 1971 as a professor of semiotics at the University of Bologna.
He collected his newspaper and magazine articles and turned them into a book, which was released in 1973. In the 1980s, he wrote a number of books and made his earlier ideas more concrete to help the reader understand them.
He tried to explain how much of our perceptual ability is based on cognitive comprehension and how much is based on grammar using the intellectual teachings of philosophers like Pascal, Aristotle, and Heidegger. He conducted extensive analyses on the possibility of a perfect language and looked into ways to improve the tools we use on a daily basis. In the 2000s, the author continued his pursuit of the ideal language by focusing on the belief system. He received the 1982 MacLuhan Teleglobe Prize, the 1982 Médicis Prize, the 1981 Anghiari Prize, the 1981 Strega Prize, and the 1981 Viareggio Prize. He received the Italian Grand Star Knight title. a Gold Medal for Italian Culture and Art. The author, whose work was recognized with numerous titles and honors, never put down his pen. In the home library he established, he made an effort to conduct research and present new ideas.
The author has a sizable library with more than 30,000 books in his home. His works, which are the culmination of his diverse ideas, have received numerous awards. He was a well-known writer and thinker who had a son and a daughter. He also taught for a very long time.
Works:
* Rose's name
Semiotics of Reception
The Foucault's Pendulum
The Daily to the Art
*The island from yesterday
Six Walks through the Imaginary Woods
*European Culture's Search for the Perfect Language
*Dreaming of the medieval era
*Comment excessively
*Go with Salmon
*Misreadings
*Five Writings on Morals
Medieval Aesthetics: Art and Beauty
* Open Object
Interviews regarding the End of Days
*Baudolino
Believe or Disbelieve
The Mysterious Flame of Queen Loana
The Earth Dwarves of Cecu
Background on Beauty
History of Cruelty
*Never Assume You Can Get Rid of Books
Czech Cemetery
* Number 0