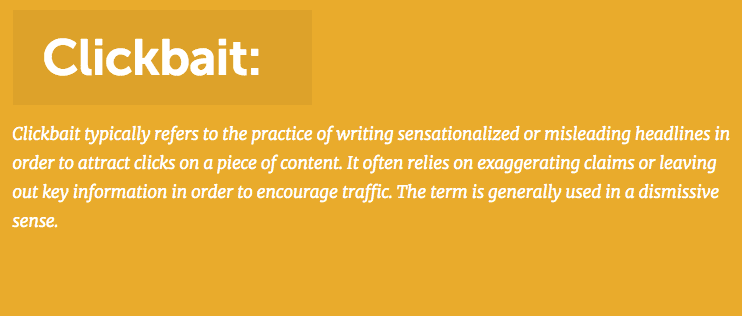 One of the terms we hear about a lot in today's media vocabulary is clickbait. This English term, which translates to "click bait or click trap," refers to a news presentation technique that many of us decry the most. The real measure of success for businesses and journalists has changed with the digitalization of journalism and the retail industry. In this sense, a news story's or product's success has come to depend on how well it is seen online. Here, clickbait became a byproduct of the modern age. If we were to briefly define clickbait, we would say that it is the process of creating unique headlines to grab internet users' attention on any topic, to pique their curiosity, and to persuade them to click on the relevant content. Although clickbait is frequently used for online journalism or e-commerce, this attention-getting tactic has also long been employed in the print media sector. This method, which has gained popularity since the 19th century, has become one of the most popular presentation styles in recent years. How Should Clickbait Be Used?
When using this technique, the three most crucial components when creating any title are "brevity, simplicity, simplicity." The main goal when writing the headline is to stir up excitement and pique magazine interest. In essence, clickbait is a marketing and traffic-building strategy based on manipulation. Let's examine the illustrations:
You're going to be shocked by this information.
"The renowned artist's shocking remarks"
He carried out that action.
"You will be shocked to see the final version," the people said, "could not believe their eyes."
Those who don't understand this won't be hired.
"The people who lived there did."
"People who do this become wealthy."
You won't believe this news, I assure you.
"This item will transform your life."
These examples can be expanded because clickbait is used by even the most basic online retailers, advertisers, and streaming services. Even though clickbait is well known for its unfavorable aspects, when used sparingly, it can be an effective and moral strategy. To achieve this, it is sufficient to check that the content is consistent with the title, does not let readers or customers down, and maintains its integrity.
The creation of galleries is another clickbait strategy that has gained popularity, particularly on news websites. By adding one or two lines of news text to nearly identical images of the same event, news websites attempt to keep visitors on their site. Benefits of Kickbait
When the clickbait technique is employed effectively and in accordance with moral standards;
– It makes sure that more pages are shown for the website in question, or web traffic, increasing the site's visibility.
-Awareness of the brand grows.
– Revenues from advertising rise.
– It offers a quicker and more cost-effective way to get this information for those who gather user statistics.
-Efficiently influencing people's opinions and perceptions
-Building fictitious agendas.
-Ensures users a psychological break. The drawbacks of click bait
Contrarily, the reputation of your website or product can quickly deteriorate when the Clickbait technique is applied in an exaggerated and careless manner.
– Users' trust in your website may be lost, which could result in permanent member loss. Additionally, it might deter potential customers from visiting.
–
Your products' viral marketing campaign may spread in the opposite direction much more quickly than you would like.
Users may ignore other valuable content on your website as a result of any overly dramatic clickbait title you use.
Smear campaigns may choose to make you their target.
– The algorithms of the search engines may lessen your chances of ranking highly in searches because the clickbait titles you use won't keep users on the site very long. It is well known that major platforms like Facebook and Google have developed strict algorithms to combat clickbait and penalize websites that use it excessively. Superior Content Is Preferable to Clickbait
Research studies and data made public by the major search engines both demonstrate that quality content is much more beneficial and successful than clickbait. It is advised to use clickbait responsibly by taking into account the ethical standards.